[CSSBUTTON target="../../weekend-cruising-routes/" color="ffd600″ float="left"]Weekend Cruising Routes [/CSSBUTTON]
For one week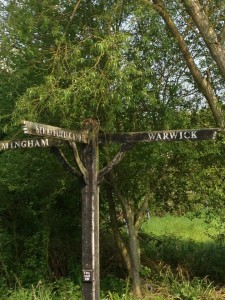 A comfortable one week cruise via Napton, Braunston, Hawksbury, Fazeley and the north Stratford Canal to Kingswood returning to Warwick via the Hatton flight of locks, or vice versa – Hatton first or last – your choice! Cruising time 54 hours , 94 Locks
This  is a set of photos as a pdf file, it is a big file to download, but gives a great feel of a trip around the Warwickshire Ring – In July we had the opportunity to do the Warwickshire ring with one of your boats. We had wonderful weather and enjoyed it very much. Please find enclosed some pictures in a pdf fomat. Best regards, Thomas Gerwers, Hamburg, Germany [CSSBUTTON target="http://www.kateboats.co.uk/secondwp/wp-content/uploads/2012/01/Kate.pdf" color="ffd600″ float="left"] Warwickshire Ring – PDF file [/CSSBUTTON]
---
Stratford
To the Shakespearian town of Stratford via the Hatton flight(23 locks),  Kingswood Junction to the Southern Stratford Canal. Moor in the centre of Stratford near the Memorial Theatre. The return trip can be extended by taking a detour to Knowle. Cruising time 37 hours from Warwick, 49 hours from Stockton Top Marina 110 Locks A more detailed description of the route to Stratford can be found here
---
Foxton
One weeks cruise via Braunston, Norton Junction, Watford and the Grand Union to Foxton, if time permits descend the Foxton flight of locks and visit Market Harborough. Cruising time including return 50 hours
---
Ashby Canal
A gentle cruise via Braunston, Hillmorton and Marston to visit the site of the battle of Bosworth Field. The Ashby meanders through pleasant countryside. Cruising time including return 40 hours
---
Oxford Canal
To Banbury via Napton, Cropredy and return. Easy and attractive run. Cruising time 38 hours can be extended to Aynho giving a further 6 hours cruising time.
---
Stoke Bruerne
A cruise along the Grand Union via Braunston, Norton Junction and Weedon through Blisworth tunnel to the Waterways Museum and return. Cruising time 38 hours.
---
---
For Two Weeks
Leicester Circuit
An interesting and varied two weeks via Foxton, Sawlwy, Trent and Mersey, Fazeley Junction, Hawksbury, Rugby and Grand Union. Cruising time 86 hours.
---
Oxford
Down the ever popular Oxford Canal and return. Cruising time 61 hours.
---
Avon Ring
Two weeks cruising via Hatton Flight, Stratford Canal, Rivers Avon and Severn, returning via Worcester and Birmingham Canal. Extra tolls are applicable to this route. Note not advisable in one week from Warwick. Cruising time 68 hours.
---
Stourport Ring
To Birmingham (Gas Street Basin) via the Hatton Flight and North Stratford, take the Main Line to Wolverhampton, then via the Main Line to Wolverhampton, then via the Staff's and Worc's to Stourport on Severn. Down the Severn to Worcester, return via the Tardebigge Flight to Kings Norton. A relaxed cruise with time to stop in Worcester, take trip on the Severn Valley Railway and visit the Avoncroft Museum at Stoke Prior and the Black Country Museum at Dudley.
---
---
Three Week Cruise
The Thames Ring
For the trip of a lifetime we can recommend the three week cruise down the Grand Union to London, along the Thames to Oxford returning to Warwick via the Oxford Canal.
---
Llangollen
In three weeks you can cruise up to the Llangollen canal, boasting scenic beauty and breathtaking engineering in equal measure