What does the hire fee cover?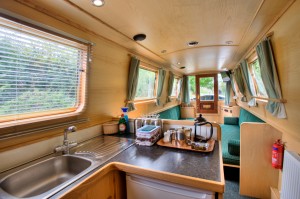 Our boats are hired complete with all the equipment and a full inventory of domestic items is on board, it includes washing up liquid, scouring pads, dishcloths, tea towels, spray cleaner and toilet rolls. Bedding is provided by way of pillows, duvets and sheets. When you take over your boat it will have been refuelled, the water tank filled and new gas bottles connected.
Gas and diesel are included in the hire fee. NO EXTRA CHARGE IS MADE FOR THESE. Your boat carries sufficient diesel fuel for two weeks normal cruising.
Pets
We are pleased to accept pets on board, but we do ask co-operation in keeping them off bedding and seating. A charge of £25 per pet is made.
Buoyancy Aids
We provide buoyancy aids free of charge for those requiring them. We suggest that children wear them at all times, especially when near locks. They will be fitted on arrival.
Television Sets
Your boat is equipped with a colour television set with DVD player and a radio. By their nature canals tend to be low lying, and television reception may not be as good as you have at home.
Arrival and Departure Times
Your craft should be returned to us promptly by 9.00 am on the last day of hire and vacated by 9.30 am. All our craft need to be refuelled, cleaned and maintained on this day ready for the next hirer and we do require several hours in order to complete this work. However if you want to make the most of your last day Warwick Castle is only a few minutes drive away, and is certainly worth a visit.
Craft are normally available from 2.30 pm and if you could time your arrival with this in mind we shall endeavour to speed you on your cruise as soon as possible.
PLEASE LET US KNOW IF YOU EXPECT TO ARRIVE LATER THAN 3.00PM.
---
If you haven't done this before we need to give you lots of information, and also take the time to show you how the locks work, from your arrival in our car park to us waving you goodbye can take a good couple of hours, so give yourself as much of the afternoon as you can. 
---
Free Car Park
Warwick:
We do have our own private car park but space is limited and restricts us to two cars per boat, parked free at your own risk. (For insurance purposes your keys must be left at boatyard).
Stockton Top Marina:
Free parking is available. It may be necessary for you to leave your keys at the marina while you are out on the boat.
---
Water
All boats carry a good supply of water but it is advisable to top up daily. It is wise to plan your water stops. The location of water points is shown in the cruising guides.
Pump out Toilets
All our craft are fitted with pump out type toilets. They have a flushing action similar to that of a domestic toilet. Full details of their operation, which is simple, will be given on your arrival.
Clothing, etc.
We suggest casual clothing, wet weather gear and sensible footwear such as trainers. For returning to the boat after dark a torch is very useful. A pack of cards and a few games for evening entertainment.
Licences
Your boat is licensed for all Canal and River Trust waterways. Certain other waterways require special licenses which must be obtained before or during the trip. These include the Upper and Lower Avon Navigations, Rivers Nene and Thames. Payment of these licenses is the responsibility of the hirer.
Taking over the Boat
Before you start your cruise we will give you full instruction covering all aspects of canal cruising and  locking. If you have not handled a narrow boat before we will accompany you through a lock. A manual provides valuable information and reminders on safe navigation and you will find a copy of the Boaters Guide DVD and Handbook on the boat. A list of useful telephone numbers and canal information is also included.
Books and Maps
Waterways guides are essential for your cruise as these show the facilities you will need. We have a wide range of guides and maps which are available in our shop. We would be pleased to send your requirements to you in advance of your holiday.
Supermarkets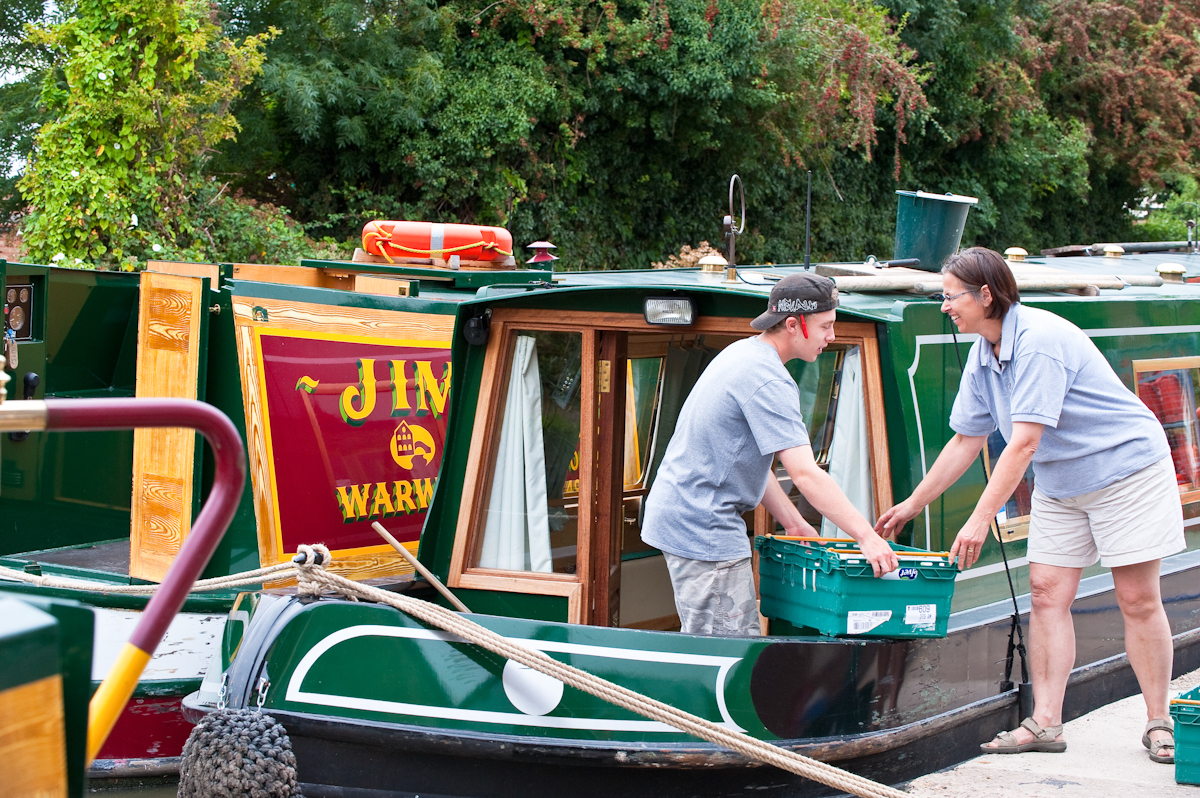 The following supermarkets are within easy reach of the Warwick boatyard:
Marks and Spencers Express – a three minute walk from the boatyard.
TESCO – by canal (moorings at Bridge 46) or by car.
Southam has a number of small supermarkets, including a Tesco,  and is only a 10 minute drive from the Blue Lias base.
You could also have deliveries from the internet supermarket services:
Please give the additional information of the name of your boat on the order. The postcode for Warwick (Saturday and Tuesday departures) is CV34 5JB, and for Stockton (Monday or Friday departures) is CV47 8HN. Please also have your order delivered "with bags",  which makes it much easier for us to be able to get everything onto the boat for you.
General information about canal boat hire
We hope that has given you enough information about canal boat hire, but if you want to know anything further please feel free to email, chat or phone. We are always happy to chat boats, availability and bookings!