Whether you're looking for a family holiday with a difference or just want to unwind and take life at a more tranquil pace, each boat in our luxury narrowboat holiday fleet provides a level of comfort and convenience that is normally associated with privately owned narrowboats, so if you fancy trying a canal boat holiday we have the boats for you.
Don't forget the boat is the holiday, you don't need to allow for those expensive days out during the week! Our quoted prices INCLUDE diesel and damage waiver (and linen and car parking) – if you are comparing prices with other narrowboat holiday firms make sure you compare like for like!
Dogs and canals go together, the dogs can just be part of the canal boat holiday. We have our own dogs and are well aware of the scenario when you are on a self catering holiday and go out for the day. You spend lots of time worrying about where you can stop, will the dogs be able to get out, you want to have a look at something and it is too hot for the dogs to stop in the car – is this familiar? On the boat you can just relax and know they are ok, apart from the odd unintentional swim!
Star ratings for each narrowboat are displayed on the relevant pages, and online availability and reservation is now also a feature, but please feel free to phone or email if you would like to discuss your canal holiday plans.
Here are details of our boats and hope that you will find one that suits your requirements. We are pleased for you to view the boats when they are available (we are proud of our boats and feel that they sell themselves!) and you are assured of a warm welcome at either of our boatyards.
Choose your boat
Canal Boat Holiday
These are not your average hire boat, but superb examples of the boatbuilders art! All our narrowboats have: – colour television with DVD player, stereo CD player. All boats have 240 electric supply, so bring your normal plug in chargers for phones and cameras, rather than the 12 volt car chargers. The permanent double beds have internal sprung mattresses, the boats are carpeted throughout, apart from the galley and bathroom areas.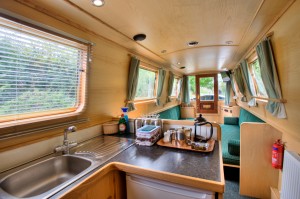 Previous hirers will have 10% discount on the first week of any holiday booked with us. All hirer's who book for a 2 week break  benefit from a 10% discount on the 2nd week.
If you were wondering about the names of our narrowboats in the canalboat hire fleet, Kate Boats have traditionally been named after the owners family members, and we now have Rebecca and Stephen (our children), and Jenella, Isabella,  Marie, Esma Frances and Martin, their grandparents, with their cousin, Alexander, his mum Patricia Helen and her sister Susan. Lucy May joined the fleet shortly after Lucy and Alexander got married.
---