If you don't want to bring your shopping with you what about using one of the online grocery delivery services. Pick a slot between 10 am and midday, put the name of the boat in "instructions", and we will put it on the boat for you, and pop the cold stuff in the fridge.
(PLEASE, PLEASE, PLEASE get it delivered with bags if you want us to do it, it can be difficult carrying trays across boats, bags make it all much simpler)
We are not particularly endorsing Tesco, however if you want to use them for your delivery here are the instructions.
Deliveries to Stockton Top Marina
Go to add new address, enter postcode – CV47 8HN and choose "Stockton Top Marina" from the drop down list.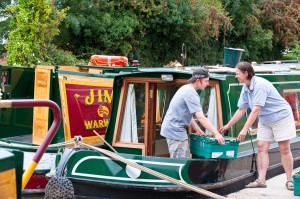 Put "Kate Boats" and the boat name in the "instructions to driver" box.
The drivers know where to come, and the unit is always manned, and the unit can also be seen from the marina, so we do tend to see the van arrive.
Deliveries to Warwick
The postcode is CV34 5JB, and Kate Boats, The Boatyard is available to select.